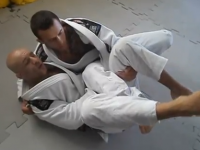 This is a very loose translation of an article I found on a Brazilian website. It will be the first of many, and it's a part of a specific project that I'm working on.
Oh, and If you're interested in checking out the original version, head over to Aprenda Jiu-jitsu.
Organic Translation
If you play half guard, you'll eventually run into opponents that like to back step into inverted half guard in order to pass the guard. The sweep that Wagner Galeto demonstrates below is geared towards that situation.
How the Indiana Jones Half Guard Works
To initiate this attack, a certain grip is required. If you've ever seen Cyborg's first instructional set, he calls it the dental floss grip. Check out the video if you want to see what it looks like because I really don't want to explain it.
One other note is that the grip has to be established before the back step.  Then as your opponent transitioned into inverted half guard, you will switch the dental floss grip from one hand to the other while moving the hand that previously held the grip around to the opponent's back. Use that hand to then grasp their belt and keep them from jumping back to the original position.
To finish the sweep, create a hook under the opponent's near ankle. Use that hook to elevate their leg as you use your grip to push their leg which will give you the space to come up to your knees. And complete the sweep.
Details of the Position
If your opponent decides not to back step into inverted half, you can invert and pursue additional options from there or use other techniques to sweep.
This technique can also be performed using the opponent's belt as the control grip, but there is a lower probability of success. So always look for the dental floss grip when possible.
Watch the Instructional
Share and Enjoy
You Might Also Like
Comments
comments