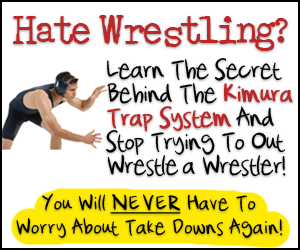 In a few weeks, David Avellan will be a releasing a instructional set that focuses on diverse methods of applying the kimura grip. The set will include six DVDs, a book, and a mind map. So he's taking a multi-pronged approach to instruction in order to increase the amount of value that his clients receive from the product.
That's a great thing, and I want to follow his example right now by:
Giving a overview of the techniques that are available by signing up for the newsletter
Sharing other examples of his instruction style
Sharing a interview David Avellan did on the Kimura Trap Series
Sharing examples of related techniques taught by his brother
Sharing a overview of his accomplishments in competition
Sharing a example of the kimura being used to establish position and set up other submissions
Overview of the Free Kimura Trap Techniques Available
When you go to the Kimura Trap site and sign up for the newsletter, you will be given access to some techniques from the set. Let's list them:
Kimura Trap Against a Head Inside Single
One Arm Choke
Kimura Lockdown
Avellan Squeeze
Forearm Slicer
Of that list, right now the kimura counter to the single leg and the forearm slicer are available. I have no doubt that the rest will be available as well before the release date of the whole set though. Anyway, let's focus on the two techniques that can be seen right now.
The kimura trap against the single leg is pretty self-explanatory. It's method of turning a defensive position into a offensive one that has several submission possibilities. In the video, David also states that this is the basis of the whole series. So the concepts you see in this one video will be applied to other areas in the rest of the set.
The forearm slicer is a offensive counter to the kimura defense of grabbing the pants, belt, etc. It simply gives you a option of pressing your attack through the defense.
Examples of David Avellan's Teaching Style
By watching these videos, you'll not only learn some techniques and concepts that may be helpful but you're also get a good idea of how David Avellan teaches.
David Avellan's Interview
Recently David did an interview with Carson Corner. In it, he discusses the Kimura Trap System and the thought process that went into its development. It can be found here.
Examples of Kimura Techniques Taught by Marcos Avellan
I doubt any of this will be in the Kimura Trap Series, but it's interesting. Also it gives you a idea of how much thought the brothers have put into the kimura as a position.
Example of the Kimura Grip Being Used to Setup Something Else
The application of the kimura grip starts at 2:02.
Some of David Avellan's Accomplishments
2000 KWA Sport Combat III Heavyweight Champion
2000 FFC Heavyweight Champion
2001 Rival Classic Heavyweight Champion
2001 Rival Classic II Heavyweight Champion
2002 FGA Submission Grappling Open II Heavyweight Champion
2002 Planet Submission 16-man Absolute Champion
2002 NAGA New England 10-man Superfight Champion
2003 NAGA World Light-Heavyweight Champion
2003 GQ Team USA Member – Cruiserweight
2003 NAGA All-American Superfight Champion
2003 NAGA Pro-Am Superfight Champion
2003 Finisher Cup Superfight Champion
2003 Grapplemania 4-man Superfight Champion
2003 GQ Pro Division World Champion
2003 Ultimate Submission Showdown – Silver Medalist
2004 Submission Wrestling Open ADCC Superfight Winner
2004 Grappler's Quest West V Pro Middleweight Champion
2004 Grappler's Quest Oxydol Challenge – Champion
2005 ADCC Submission Wrestling World Championship Competitor
2006 AFC VIII MMA Bout – Winner
2007 BodogFight Season 4 MMA Bout – Winner
2007 ADCC Submission Wrestling World Championship Competitor
2008 WEC Fighter
2009 ADCC Submission Wrestling World Championship Bronze Medalist
2011 Grapplers Quest Florida Cruiserweight Champion
2011 ADCC Submission Wrestling World Championship Competitor
You can find the rest of his bio at his blog.
Oh, here's the promotional video for the Kimura Trap Series as well.
Share and Enjoy
You Might Also Like
Comments
comments