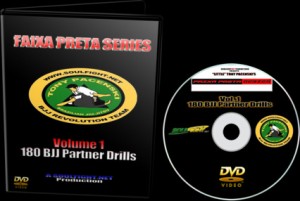 I have a high level of interest in partner drills because they are undeniably useful in developing both skill and conditioning. In addition,  once you get the hang of them the drills can be quite fun. So they can serve as a good distraction from the fact that you are doing work, and that's always great.
Now in a search through that great maze called Youtube, I stumbled on the promotion video for this instructional.What was really interesting about it was that it included a lot of the partner drills that would be in the set. So just from watching the youtube ad, I was able to pick up a lot of new ideas for drills.
It also opened my mind to new possibilities for partner drills that I could make up because these drills are just specific movements that are isolated into flows from techniques. So when it comes to these drills the possibilities are as vast as they are for techniques in BJJ.
Who wants to reinvent the wheel though? I've already been drawing ideas from Andre Galvao's Drill To Win, and this looks like another great resource for building a strong base in this area.
I want it, and it's cheap. I like that.
Share and Enjoy
You Might Also Like
Comments
comments