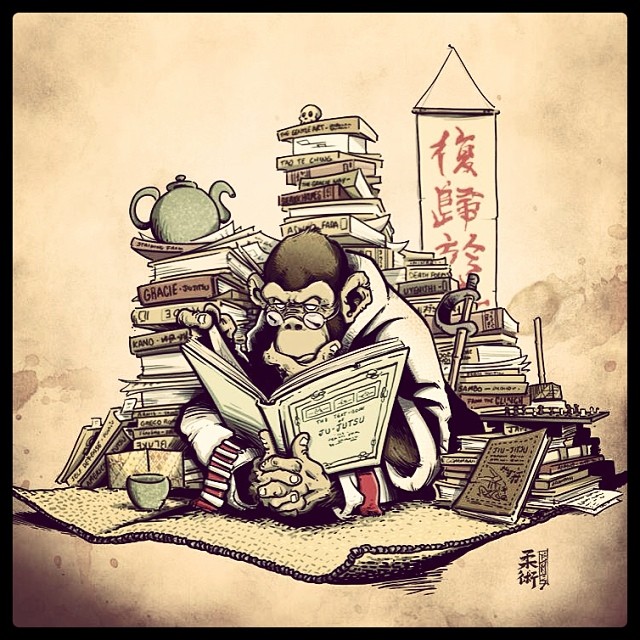 Updated: October 07, 2014
There is a wealth of knowledge out there.  The difficulty lies in finding what's relevant to you. What helps me is recommendations. People tell me about books (that's why I just read the Aladdin Factor right now, for example). I see them written about in other books, or hear about them on the internet.
I am grateful for those recommendations, and that's the main reason I created this list and continually update it.
With that said, this is my personal non-fiction reading list. If I included the fiction, it would be enormous, and the non-fiction has more applications to jiu-jitsu and the pursuit of success in general.
If I had to choose only five that you absolutely must read in your lifetime, it would be:
How to Win Friends and Influence People.
The Alchemist.
Mindset.
The Aladdin Factor
The Richest Man in Babylon
---
Books That I've Read
Communication
How to Win Friends & Influence People by Dale Carnegie – Dealing with people is one of the most crucial skills you can have in life, and this book is one of the best resources for developing that skill. I needed it, and I recommend it. Read it if you haven't already and read it again if you have.
On Writing by Stephen King - On Writing is a mix between a biography and a treatise on the art of writing. You will take away some good lessons from his life story and his technical insights on writing, but it also interesting how much he was willing to reveal.
The Elements of Style by William Strunk – I've listened to this book, so it was hard to appreciate without actually seeing the words in front of me. Going to have to get it in book form later.
How to Write Short by Roy Peter Clark – This book about doing more with less. In short, it makes you think about how you can remove bloat from your writing until only your point is crystal clear. It's really valuable if you are big on Twitter or you just like tight focused communication.
As We Speak by Peter Meyers and Shann Nix  - As We Speak goes over several different aspects of communication and clearly outlines methods for improving the process. It's also well-written and quite interesting. So if you want to communicate more effectively, this is a great book to read.
The Modern Scholar: Way with Words by Michael D. C. Drout -  The topic of communicating effectively is approached with a scholastic rigor. You'll find the terminology and application of rhetoric analyzed, and you will learn how to be more effective at public speaking. One thing that was excellent  in particular about this book was that he dissects famous speeches and identifies common factors behind their strength so that you can take those lessons apply them for yourself.
Entrepreneurship
The Lean Startup by Eric Reis – Focuses on how entrepreneurs can build successful businesses with limited resources. So in essence, the goal is to give you a framework for minimizing your risk while you seek to make your dream become reality.
The Toilet Paper Entrepreneur by Mike Michalowicz – The focus is on the start up phase of building a business, and he approaches that topic with humor and personal experience. If you're interested in entrepreneurship, I recommend that you get this on audio because his narration will keep you entertained while you learn.
The Pumpkin Plan by Mike Michalowicz – The focus is on specialization in order to rapidly grow an existing business, and there were many good ideas in the book. There are some ways that you can apply the concepts outside of business, but the focus of the book is entrepreneurship.
Profit First by Mike Michalowicz – If you've read the Richest Man in Babylon, the central premise behind this book won't be unfamiliar. It takes the concept of paying yourself first, applies it to business and goes quite deep into the financials.
The 4-Hour Workweek by Tim Ferriss – The focus is on time management and entrepreneurship. In essence, the goal is to answer two questions: do you realize what the most valuable resource in the world is, and how can you structure your life to attain more of it.
The Richest Man in Babylon by George S. Clason – This is the best book you will ever read on managing money. The ideas and concepts are presented and reinforced in a clear and enjoyable way. This is the kind of book that you read and then recommend to everyone that you care about.
History
Masters of Command by Barry Strauss – This is a study of the history and leadership of three great generals. They have names you've probably heard before: Alexander, Hannibal, and Caesar.
Einstein by Walter Issacson – A biographical book that covers almost the entire span of Einstein's life and accomplishments.
Daily Rituals by Mason Currey – Many stories are told about artists throughout the years, but the focus is not on their work; it is on the rituals they performed consistently that contributed to their work. It is fascinating.
The Theory That Would Not Die by Sharon Bertsch Mcgrayne – I don't recommend this book. It has a series of interesting history lessons, but overall it's just not well organized. It would only be interesting to you if you love mathematical theory and the historical applications of it.
Jiu-jitsu
Mastering Jujitsu by Renzo Gracie and John Danaher – Fundamentally, I have altered my philosophy on training to a degree as a result of this book. It's not the easiest read, but the overall concepts are strong. It's a good book to read if you care about the historical foundation of Jiu-jitsu.
The Black Belt Blueprint by Nic Gregoriades - If a white belt ever came to me and asked me for a book to read for learning Jiu-jitsu, I would recommend this book. It gives a firm conceptual foundation for increasing your trajectory towards mastery.
Drill to Win by Andre Galvao – This is one of the best reference guides for Brazilian Jiu-jitsu Drills. The only flaw it has is that there is no video component. It will give you ideas but it is difficult to truly capture motion in a few pictures. Still worth studying though.
The Unexpected Champion by Dan Faggella – The focus of the book is on training methodologies, and it has some great lessons. It's a short book though, and that can be either a blessing or a curse depending on how you look at it.
Zen Jiu Jitsu: The 30 Day Program by Oliver Staark – I am leery of anyone who would write under an alias on a non-fiction work, but I would like to see more conceptual books on Jiu-jitsu, and this one was overall decent.
Leadership
Coaching for Performance by John Whitmore – Focuses on the practice of coaching in many different spheres of life, and I'll think I'll have to read it again to truly evaluate it.
Start with Why by Simon Sinek –  On Youtube, you can find Simon's TED talk, and in it, he outlines the core concept behind the book. Both the talk and the book are excellent. So if leading effectively is interesting to you, watch the talk and read the book.
Leading Minds by Howard Gardner – This is a scholar's work so it is a little dry. Other than that, several of the individuals he profiled were completely unknown to me, so that was a new source of lessons. One thing that is interesting about this book is that he redefines what it means to be a leader. It's more for the scholars among us.
Discourses on Livy by Niccolo Machiavelli – This is a lesser known book that focuses on the benefits of the republican form of government. You really have to read both to get a full sense of his philosophy.
The Prince by Niccolo Machiavelli – Even if the days of kings have come and gone for the most part, you will learn many practical lessons if you read this book. It is a classic for a reason.
Learning
The Art of Learning by Josh Waitzkin – Josh uses his own life story to highlight lessons about the learning process. He gets a bit too dramatic with language here and there(perhaps only for me), but it's a book filled with great insights. I recommend it if you're interested in improving yourself daily.
The Brain That Changes Itself by Norman Doidge – This book introduced me to the concept of neural plasticity, which is the idea that your brain has the ability to physically change itself in response to stimulus. It reinforces the idea that nothing is static. We're constantly in flux and always able to improve.
Mastery: The Keys to Success and Long-Term Fulfillment by George Leonard – The book focuses on the concepts of mastery, but you already knew that. It was the title, wasn't it? Anyway, he breaks up the principle into core components then uses a mixture of personal experience, research, and philosophy to emphasize his points. It's a good book.
Mastery by Robert Greene – This book is simply amazing. He mixes concrete examples and theories to really drive home the concepts and ideas. It's easy to see how it can all be applied.
Sales and Marketing
Meaningful Marketing by Doug Hall – This is a reference guide on marketing principles and techniques. Meaningful marketing is another way of saying marketing that doesn't rely on hype and psychological tricks. Instead the focus is on integrity and clearly identifying benefits. A contrast is also made against principles and techniques that the author labels as mindless marketing.
Slow Down, Sell Faster! by Kevin Davis – The focus is on a simple idea. It's that a customer's buying process is far more important than any selling process. The focus should also always be on filling a need,  and this book gives A LOT of practical advice for doing that. In fact, at my former job, this book was required reading for all the salespeople.
The Sales Bible by Jeffrey Gitomer – This is one of the most comprehensive books on the art of sales that I have ever seen. Not only does it contain massive amounts of information, but the presentation is extraordinary. I recommend it because no matter what you do, you have to sell something, even if it is just yourself.
Mindset
Mindset by Carol Dweck – It begins with the idea that there are two primary mindsets and they affect how people respond to events. Then she gives many different examples of those mindsets in action and details what you can do to change your own mindset, if you desire.
The Fighter's Mind: Inside the Mental Game by Sam Sheridan – A series of interviews and observations on the mindset that fighters develop in order to achieve high levels of success. There are several fascinating points, especially for those of us who love jiu-jitsu since Marcelo Garcia and Josh Waitzkin are profiled.
The Code of the Samurai (translated) by Thomas Cleary – It's been a long time since I've read this, but the focus is on how you can conduct yourself to be worthy of respect.
Strategy
The Art of War by Sun Tzu – If strategy is important to you, read this book. It's that simple. It will give you a solid conceptual framework for the big picture.
Musashi's Book of Five Rings by Miyamoto Musashi – There was a time when I was reading this book before all my major competition. It focused my mind on the conceptual behind skill development and application. If you have the ability to understand concepts and apply them to your interests, this book is for you.
The 33 Strategies of War by Robert Greene – The format is the same as his other books, but focus is on strategy, and there are many lessons that can be gleaned from history.
The Art of Strategy by Avinash Dixit and Barry Nalebuff – I was disappointed by this book. I feel that it failed to deliver on the promise of being a guide to strategy in business and life. Instead, it's a book about  the mathematics of game theory and public policy.
The 48 Laws of Power by Robert Greene - I've read this book a few times now, and the historical lessons are invaluable. Delving into history to give examples of concepts in action just strengthens an argument so much.
Success Principles
Think and Grow Rich by Napoleon Hill – If you haven't read this, stop whatever you're doing, and rectify that. I can't recommend Think and Grow Rich enough. The concepts highlighted in the book are as true today as they were decades ago. It's a book worthy of continuous study, no matter what you want to do in life.
The Magic of Thinking Big by David Schwartz – I read this before Think and Grow Rich, but it's written afterward. Both books highlight similar principles, but the presentation is different.
Thick Face, Black Heart by Chin-Ning Chu – This is an interesting book. It challenges conventional concepts about achieving success, and it will open your mind to a new perspective.
No Excuses! by Brian Tracy – You can sum this book up by saying that it is a comprehensive lesson on applying self discipline to many situations and how such a focus will change the outcomes achieved.
The Dynamic Laws of Prosperity by Catherine Ponder – This was a decent successor to Think and Grow Rich. Many of the same concepts are emphasized from a different perspective.
The Alchemist by Paulo Coelho – The Alchemist is about finding and pursuing your purpose in life. It's a fascinating that reinforces a key concept over and over again. So if you have goals and dreams that you want to accomplish, this book can serve as the fuel to drive you forward.
The Aladdin Factor by Jack Canfield and Mark Victor Hansen – What do you want in life, and are you willing to ask for it? This is a book about the power of asking, not only from others but also from yourself. It's a great book, and I believe that there is no one that can't benefit from reading it.
Who Moved My Cheese? by Spencer Johnson – In life, it is easy to develop habits. If you go to the same place every day and receive the same reward every time, expectations start to grow when no certainty exists at all.  There will come a point where the situation changes and you have to adapt. This book is a parable about that concept, and the lesson you can draw from it is great.
Success Research
Outliers by Malcolm Gladwell – I read this book in less than a day. It's well-written, and there are some great lessons to be learned from it That's true even if I don't agree with some elements of the argument. It is good to evaluate Outliers, Talent is Overrated and Rebounders side by side.
Talent is Overrated by Geoff Colvin –  This is another book that focuses on the factors of success like Outliers. If I had to choose between them, I would definitely choose this one. I gained so much more from it, and if you believe that success leaves clues, this is a great book to read.
Rebounders by Rick Newman – Similar to Outliers and Talent is Overrated, the focus is on the factors that go into success. Rebounders approaches the topic from a different angle though by highlighting real life examples to illustrate on how resilience and persistence make a significant difference.
Books That I Will Read
Tipping Point by Malcolm Gladwell
Steve Jobs by Walter Issacson
Success Principles by Jack Canfield
Seven Habits of Highly Effective People by Steven Covey
Strategy by Liddell Hart
Expert Performance in Sports by Anders Ericsson
Motivation and Personality by Abraham Maslow
Extraordinary Minds by Howard Gardner
The Slight Edge by Jeff Olson
Shantaram by Gregory David Roberts
Prometheus Rising by Robert Anton Wilson
The Obstacle is the Way by Ryan Holiday
Vagabonding by Rolf Potts
How Great Generals Win by Bevin Alexander
How Wars are Won by Bevin Alexander
Titan by Ron Chernow
What Great Book Have You Read Lately?