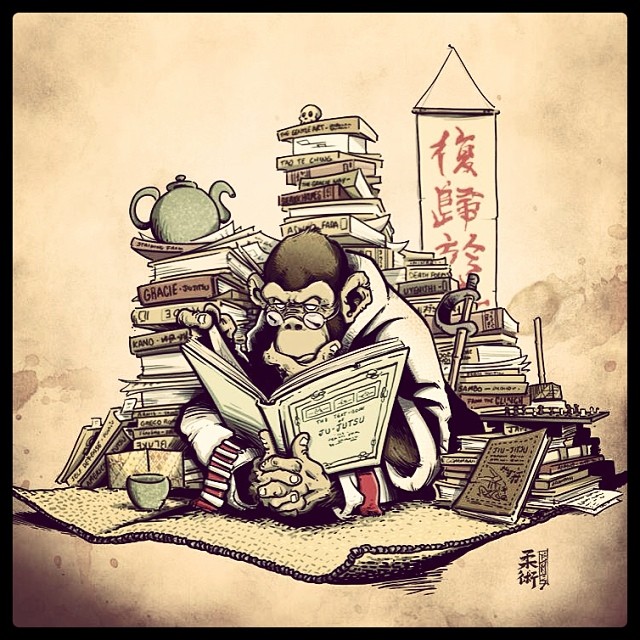 Updated: October 27, 2014
There is a wealth of knowledge out there.  The difficulty lies in finding what's relevant to you. What has helped me is recommendations. People have told me about books. I've seen them written about in other books, or I've heard about them on the internet.
I am grateful for those recommendations, and that's the main reason I created this list and continually update it.
With that said, this is my personal non-fiction reading list. If I included the fiction, it would be enormous, and the non-fiction has more applications to jiu-jitsu and the pursuit of success in general.
If I had to choose only five that you absolutely must read in your lifetime, it would be:
How to Win Friends and Influence People.
The Alchemist.
Mindset.
The Aladdin Factor
The Richest Man in Babylon
---
Books That I've Read
Communication
Communication and relationship building are crucial skills, and they apply to all areas of life. They are also the areas where I am weak, so I want to rectify that and the books I've read on the topic can be found in a separate post.
 Entrepreneurship
You can find all the books I've read on entrepreneurship in a separate post. It's a topic that I'm very interested in, so I really appreciate book recommendations.
Finances
The Richest Man in Babylon by George S. Clason – This is the best book you will ever read on managing money. The ideas and concepts are presented and reinforced in a clear and enjoyable way. This is the kind of book that you read and then recommend to everyone that you care about.
History
Lessons can be drawn from history that are applicable in the present. That's one of the best reasons to read books that delve deep into the past.
Jiu-jitsu
Mastering Jujitsu by Renzo Gracie and John Danaher – Fundamentally, I have altered my philosophy on training to a degree as a result of this book. It's not the easiest read, but the overall concepts are strong. It's a good book to read if you care about the historical foundation of Jiu-jitsu.
The Black Belt Blueprint by Nic Gregoriades - If a white belt ever came to me and asked me for a book to read for learning Jiu-jitsu, I would recommend this book. It gives a firm conceptual foundation for increasing your trajectory towards mastery.
Drill to Win by Andre Galvao – This is one of the best reference guides for Brazilian Jiu-jitsu Drills. The only flaw it has is that there is no video component. It will give you ideas but it is difficult to truly capture motion in a few pictures. Still worth studying though.
Leadership
Start with Why by Simon Sinek –  On Youtube, you can find Simon's TED talk, and in it, he outlines the core concept behind the book. Both the talk and the book are excellent. So if leading effectively is interesting to you, watch the talk and read the book.
Leading Minds by Howard Gardner – This is a scholar's work so it is a little dry. Other than that, several of the individuals he profiled were completely unknown to me, so that was a new source of lessons. One thing that is interesting about this book is that he redefines what it means to be a leader. It's more for the scholars among us.
Discourses on Livy by Niccolo Machiavelli – This is a lesser known book that focuses on the benefits of the republican form of government. You really have to read both to get a full sense of his philosophy.
The Prince by Niccolo Machiavelli – Even if the days of kings have come and gone for the most part, you will learn many practical lessons if you read this book. It is a classic for a reason.
Learning
I've read several books on the learning process, and I will continue to devour them because you can always improve.
Sales and Marketing
Meaningful Marketing by Doug Hall – This is a reference guide on marketing principles and techniques. Meaningful marketing is another way of saying marketing that doesn't rely on hype and psychological tricks. Instead the focus is on integrity and clearly identifying benefits. A contrast is also made against principles and techniques that the author labels as mindless marketing.
Slow Down, Sell Faster! by Kevin Davis – The focus is on a simple idea. It's that a customer's buying process is far more important than any selling process. The focus should also always be on filling a need,  and this book gives A LOT of practical advice for doing that. In fact, at my former job, this book was required reading for all the salespeople.
The Sales Bible by Jeffrey Gitomer – This is one of the most comprehensive books on the art of sales that I have ever seen. Not only does it contain massive amounts of information, but the presentation is extraordinary. I recommend it because no matter what you do, you have to sell something, even if it is just yourself.
Mindset
Mindset by Carol Dweck – It begins with the idea that there are two primary mindsets and they affect how people respond to events. Then she gives many different examples of those mindsets in action and details what you can do to change your own mindset, if you desire.
The Fighter's Mind: Inside the Mental Game by Sam Sheridan – A series of interviews and observations on the mindset that fighters develop in order to achieve high levels of success. There are several fascinating points, especially for those of us who love jiu-jitsu since Marcelo Garcia and Josh Waitzkin are profiled.
The Code of the Samurai (translated) by Thomas Cleary – It's been a long time since I've read this, but the focus is on how you can conduct yourself to be worthy of respect.
Strategy
All the books I've read on this subject can be found in its own post, which I will be expanding as I read more relevant books. Check it out if strategy is interesting to you. Personally, I think the core concepts apply to far more than just martial conflicts, and that's why it is a worthy topic of study.
Success
The books I've read on this subject have been separated out as well. The goal is to make the recommendations more bite-sized as I read more and more. There are a few great books on this particular list, so check it out.
Books That I Will Read
Tipping Point by Malcolm Gladwell
Steve Jobs by Walter Issacson
Success Principles by Jack Canfield
Seven Habits of Highly Effective People by Steven Covey
Strategy by Liddell Hart
Expert Performance in Sports by Anders Ericsson
Motivation and Personality by Abraham Maslow
Extraordinary Minds by Howard Gardner
The Slight Edge by Jeff Olson
Shantaram by Gregory David Roberts
Prometheus Rising by Robert Anton Wilson
The Obstacle is the Way by Ryan Holiday
Vagabonding by Rolf Potts
How Great Generals Win by Bevin Alexander
How Wars are Won by Bevin Alexander
Titan by Ron Chernow
A Mind For Numbers by Barbara Oakley
How Learning Works by Susan Ambrose, Michael Bridges, and others
Creating Self Regulated Learners by Linda Nilson and Barry J. Zimmerman
Fluent Forever by Gabriel Wyner
Mind Maps by Michael Taylor
Minds on Fire by Mark C. Carnes
What Great Book Have You Read Lately?