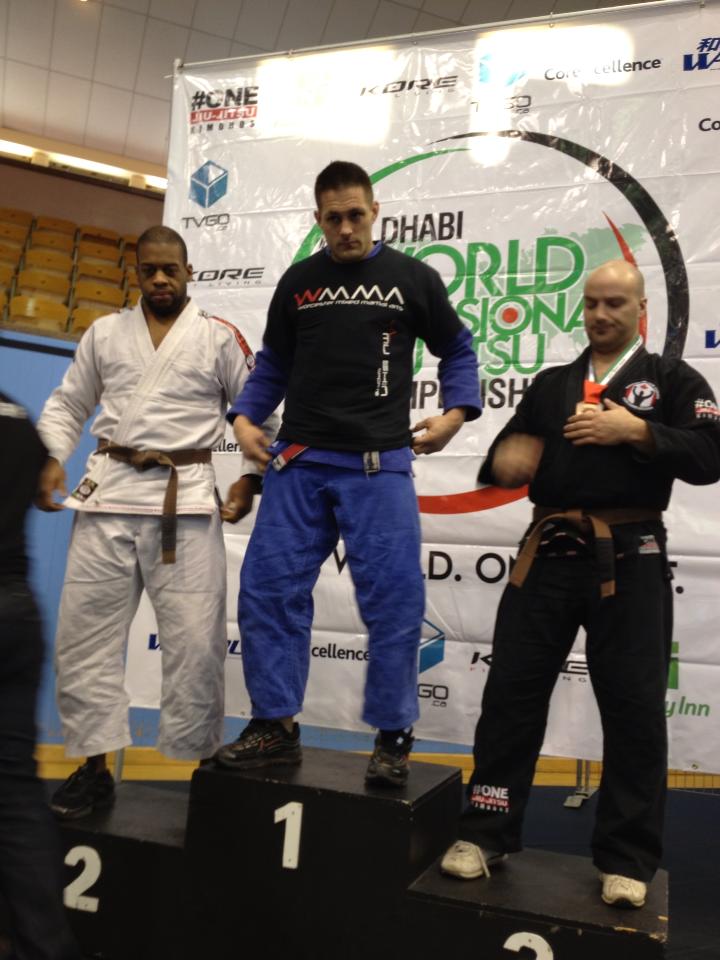 Right out the gate, let me give you a warning. A lot of time will be spent focusing on the travel portion of the story. Consider yourself warned.
Let's begin.
I booked my flight two weeks before the Montreal trials, and at that late date, the options were quite slim. So I ended up picking a one-way flight that had three connections, and I also bought a train ticket for the return trip. Ideally, it would have gotten me there in time for the weigh-ins and also given me plenty of time to work on things on the way back.
It was a simple plan.
The Original Plan
I woke up at 4 AM Friday morning to catch my first flight at 6:45. It went from Baltimore to Charlotte. Then the next flight went from there to Raleigh.
During the layover in Raleigh, I received a message from US Airways that my flight to Montreal was canceled. So I talked to someone at the service desk, and they put me on a later flight.
After that, I got on the flight to Philadelphia. Everything seemed like it was smooth sailing from that point on. Then I arrived in Philly and relaxed, only to be interrupted by another message from US Airways about the second cancellation due to weather conditions.
So again I walked to the service desk, but this time there was a line, and it was barely moving at all.
During the wait, we were all given a number to call for assistance with re-booking the flight. I called right away but the only flight that I could get wasn't until Sunday. The other option I had was to request a "trip in vain" and get sent back to Baltimore, but that couldn't be done over the phone.
Thirty minutes passed, then an hour passed, and still the line was barely moving. The whole time I was weighing options in my mind because I simply didn't want to let the chance to go back to Abu Dhabi slip out of my grasp without exerting every effort.
Shift in Gears
I looked up bus tickets and train tickets, but it seemed that only the train was still running. The problem was that even by that method, I wouldn't get there until Saturday night. I weighed that option and considered a possibility. What if I could still compete even if I didn't make it until then? That was the question.
The circumstances of my division (5-man ultra heavy brown/black) and the structure of the tournament made it a viable option. So I contacted Fabio and outlined the situation, and then I asked him if it would be possible and he gave the go-ahead.
It was like a ray of hope.
Now there was a path forward, but I still had to get my "trip in vain" so I waited in that line for another two hours. Then I had to rush to another terminal to catch my flight back to Baltimore, and it was close.
The Uncertain Journey
Once I arrived in Baltimore, I caught a shuttle over Amtrak because I wanted to verify that the train would run to Montreal.  The lady at the counter told me that it would only run to New York and no further. She also said that I should check back later because that might change.
So once again, the trip was in doubt. I went home and relaxed for a bit, and then I called Amtrak customer service to check on the train. This time, I actually got confirmation that the train would run, so I bought a ticket right away. It was a 15 hour trip, and it started at 3:38 AM so I stayed up.
I got to the train station at 3, and the monitors at the station didn't list the train to New York. Also the service area closed at 10:45, so I was standing outside alone for a good 25 minutes, freezing. That whole time, I was wondering if the train was even going to come.
Shortly after that, more people started to show up so that boosted my confidence. In the end though, the train was 20 minutes late. At least now, I was on the way.
The train arrived in New York on time, but I wasn't sure where to go to catch the second one.  So I went up to one of the ticket counters and asked about the train to Montreal. This was an interesting experience because the man I spoke was like the perfect personification of the New Yorker stereotype.
He gave me so much attitude when he was telling me that there was no way in hell that I was getting to Montreal. He said that the only thing that he could do was get me half way. It was shocking, but I repeated the question, and apparently he thought I was talking about some place other than Montreal. He then pointed me in the right direction.
So alright, crisis averted. Onward we go.
I found the waiting area for Amtrak, took a seat, and relaxed. Shortly afterward, there was a announcement about the train to Montreal. It was delayed because of weather conditions.
After that, it seemed like there was a announcement every 15 minutes just restating that the train was delayed for an indefinite period of time. It continued until finally 3 hours later they started boarding.
I got in line, and it was moving at a brisk pace. So it wasn't long until it was my turn to show the attendant my boarding pass. There was just one little issue. Apparently, I was supposed to do a check-in for Canada, I didn't know, and she wouldn't let me through. So I went to the service desk to get a check-in, but the woman at the desk wouldn't do it because she said that she couldn't leave her post.
After that, I went back to the attendant and explained the situation, and she left me on. So I went down the elevator and got on the train. Not long after that, it took off.
From there, it was actually smooth sailing. I arrived in Montreal, got to my hotel, and actually slept after more than 30 hours of travel.
The Trials
In the morning, I woke up and went to the venue. I felt alright in my matches. It didn't seem that all the travel had much effect on my body, and it definitely had no effect on my mind.
I won my first match and lost the second. Instead of trying to explain what happened, I'll just include the videos below, but I'll say this.
I have no regrets.
I truly desire to go back to Abu Dhabi because I believe that I can learn even more from the experience now than I did two years ago. Montreal was an opportunity to achieve that goal, and I pursued it to the best of my ability.
Share and Enjoy
You Might Also Like
Comments
comments