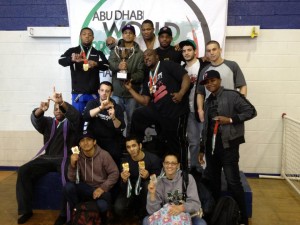 There were four tickets to Abu Dhabi out of North America that I could have won. I made every effort to succeed at three of the trials, and I would have tried for the fourth too. Unfortunately, I hear that it's not quite possible to be in two places at once. Damn….
Anyway, let's focus on New York, I won my weight division again for the third straight time. There were three matches. The first was won with a cross choke, the second by points 10-0, and the third by points 6-2.
One thing that has been great about this whole effort is that I've had the opportunity to compete against guys that I've never had any experience with before. In fact, I can't think of one rematch that I had in any of the trials. There was a small exception to that, but I'll go over that later.
Next, it was on to the absolute where the true goal could be attained. The first match was against Carlos Duarte from Atos, who was in my weight division but we didn't meet. I won that one on points 2-0 for the sweep.
After that I had a match with Tyler Steppe from Marcelo's. I won that one by bow and arrow choke, and then it was off to the finals. There my opponent was my teammate Tim Spriggs, who trains out of Crazy 88. We've trained together, but we've never competed against each other before. I lost by one advantage in that match.
Close but no cigar eh, but I know that I worked hard to get back to Abu Dhabi and to succeed there. Now even in failure, there is no doubt that I am stronger from the effort.
So onward to the next challenges.
Share and Enjoy
You Might Also Like
Comments
comments