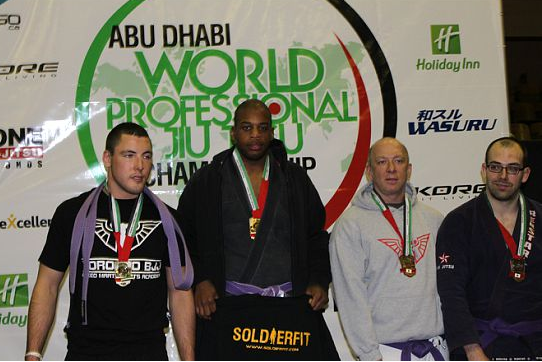 Some time has past since my last attempt to win the opportunity to compete in Abu Dhabi again, but I am still committed to the goal. So far I've competed in San Antonio and just recently I was in Montreal in pursuit of the same goal.
The trip up to Canada  was relatively uneventful except for the unexpected snowfall and the sight of a major accident's aftermath. It was still interesting trip though, and it is doubtful that I would have had a reason to see Montreal if it wasn't for Jiu-jitsu.
Now as far as the competition goes, I had three matches in my division, and all of them were against new opponents. The first was won 9-2, because they gave him takedown points for a bad pull I did. The second was won by submission, and the last by points 12-0.
In the absolute, my first match was tough. I don't know his name, but I recognized him from Abu Dhabi. He competed as a blue belt last year, and his judo and base was good. He was up by advantages until the last few seconds when I swept him.
My second match was against Travis Conley. I have quite a few regrets about this match. It was back and forth, he started strong, I turned the tables, and I was up by four points going into the last minute. Then I made a mistake, and he had the skills to seize upon the opportunity and make me pay for it. I lost by submission.
Now I have one more chance in New York, and I will be prepared. Third time's the charm.
Share and Enjoy
You Might Also Like